This week was sort of overwhelming and full full of studying languages for me. Plus of course my own personal version of Don Giovanni in my life, thank God I'm kind of not talking to him anymore. But you know these real life Don Giovannis they are so charming and hard to resist, but I will not succumb and become Donna Elvira (even though I love her), I will thrive LOL.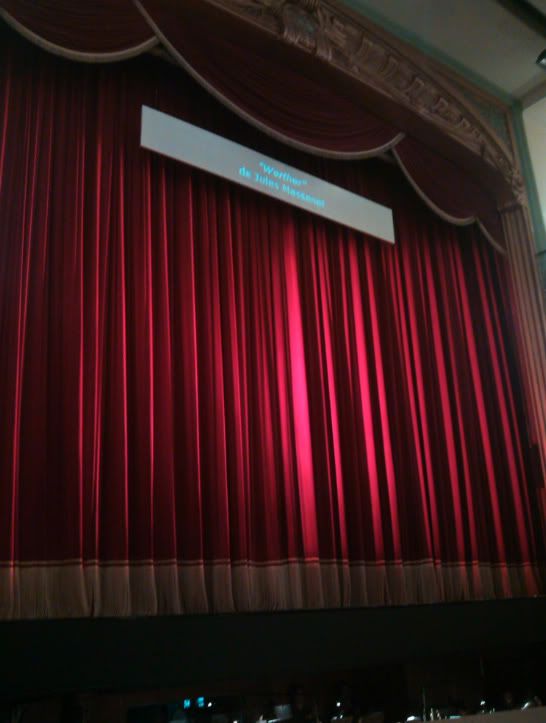 Picture I took from my seat


Anyways I decided to talk about the first live opera that moved me to tears, 'cause the first actual opera that moved me to tears was Manon, but then I was sitting in the comfort of my home sobbing not in an actual theatre. But surprisingly so the opera I'm talking about is also Massenet's, it's Werther. You know when I saw Manon, I was dazzled by her, so I bought the book "Manon Lescaut" and wow, Massenet was really nice to Manon, because the girl suffers a LOT in the book, and in the opera she only suffers a lot in act 5! But then I figured out where he deposited all the suffering Manon went through, on poor Werther's back!
So let's start from the beginning, I saw this production of Werther here in São Paulo at the São Pedro Theatre. Here in São Paulo, which is the biggest city in the country and third biggest city in the world, we only have two opera theatres, the "Theatro Municipal" which was closed for 7 years for renovations and only about 2 years ago reopened and the "Theatro São Pedro", both of them are organs of the government, meaning that they depend a lot on politicians and political interests. And just to make things clear, politics here in Brasil are as filthy as Don Giovanni's reputation.
With that being said it's an act of heroism being able to put up an opera around here with such sponsors. And let me tell you, the guys in São Pedro are real heroes; they put up a beautiful production. The sets were simple, with black and white fabrics hanging from the ceiling and some really beautiful furniture (I particularly loved a little piano they had in Charlotte's house). The costumes were so very well picked; they did an adaptation for the 60's, so the girls had flawless hairdos and pretty dresses.
Here is the cast and production list:
Luiz Fernando Malheiro
-

Conductor

and

Musical

Direction
André Heller-Lopes -
Scene Director
Renato Theobaldo and Roberto Rolnik
- Scenery Conception
Fábio Retti
– Lighting Design
Marcelo Marques
–Costume Design
Fernando Portari
(tenor) – Werther
Luisa Francesconi
(mezzo-soprano) – Charlotte
Gabriella Pace
(soprano) – Sophie
Murilo Neves
(bass) – Le Bailli
Vinícius Atique
(baritone) – Albert
Thiago Soares
(tenor) – Schmidt
Max Costa
(
baritone
) – Johann
Vanessa Portugal
(
actress
) – Kätchen
André Dallan
(
actor
) – Brühlmans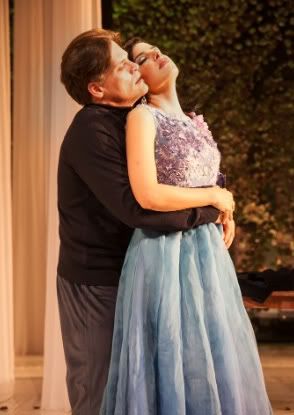 Fernando Portari and
Luisa Francesconi
 
But it wasn't the sets or the costumes that moved to tears (kind of obvious). This was my first time watching Werther, before I'd only heard the famous
"Va! laisse couler mes larmes"
(Go! And let my tears run), Charlotte's moving aria in the third act, before. From the very beginning I knew I'd seen a real opera gem on the stage, Fernando Portari who was playing Werther, was absolute perfection! His grasp on the character of Werther was so good, he appeared so melancholic in the beginning but as soon as he sees Charlotte it turns into pure romance. Their little heaven of happiness in the first act was inspiring, but then so brutally cut off by Charlotte's duty. From the second act on it's pure anticipation (I get like this because I don't read the story prior to watching anything, I want the opera to tell me story, so sometimes I get overly excited about the plot and what's about to happen) are they gonna end up together? Is there gonna be an affair? A KISS? The anticipation just kept building itself up for me and that was much thanks to the brilliant lead couple and the masterfully well conducted music.
On the third act I bursting with anticipation, I started crying at "Va! laisse couler mes larmes" and kind of didn't stop until the end of the opera. When Werther and Charlotte almost end up together going all "Let's go, leave it all behind, let's be happy, I love you!" my tears were of utter happiness but then she tells him to go away and he's distraught and it was played so well you could feel his pain and hers for having to give him up.
The fourth act for me was spend sobbing in my cardigan and sometimes laying my head on eighter one of my friend's shoulders. This adaptation they had another actor on a chair turned to the stage so we couldn't see him, and then he shoots himself just as Charlotte arrives and we find out that that's Werther. But instead of a dying Werther talking to her we see the actor who plays him in medieval clothes and very pale, already a ghost and then they have their heart breaking duet! It was a lot for me to assimilate, it was very overwhelming, both performers really gave it all they could possibly give which made it an even more amazing experience. That was very clear because both of them at curtain looked absolutely drained. It was really amazing.
And not to mention that just like in the Renée Fleming Concert the front role seats were empty and we sat right in the front role, again. So it was really an up-close experience with Werther, and the guys playing the trumpets were actually laughing at my crying during the opera, yes I could see them and they could see me.